Why the SC150 Slalom Kit is needed?

A supercharger is a gas compressor that forces more air into the combustion chambers of an internal combustion engine than is achievable with ambient atmospheric pressure as seen in a naturally-aspirated engine. A supercharger is used to increase the volumetric efficiency of an engine. By pushing the air into the cylinders, it is as if the engine had larger valves and cylinders, resulting in a "larger" engine that weighs less.
The charging pressure varies in proportion to an engine speed because this supercharger is powered mechanically by belt from the engine's crankshaft. So, you can have a good response when the load torque is unstable.
- High Reliability
The intake manifold and the suction pipe are made of cast aluminum. They have smooth inner surface and enough strength.
The supercharger itself is the Ogura's TX07 model, which has high efficiency and high durability.

- Especially for Autocross and short circuits
This kit especially enhances the torque at low and medium engine speeds. You can enjoy the advantage at every exit of the corners.


- All-in-one package (*except for Sub Computer)
We have fixed not only the supercharger and its auxiliary components but also special ductworks for the air conditioner and the brakes regarding the layout modification.
*You have to prepare a sub-ECU by yourself.

- High Scalability
The SC150 Slalom Kit boosts effectiveness of the tunings of the air intake and the exhaust system.
It will work better if you combined the SC150 Slalom Kit, the COMPE-PX air funnel cleaner, the ram-air induction box and the Sp-X muffler.
supercharger [SC150 Slalom Kit]

Model

Type

Model Year

Item Code

Price

Remarks

Swift Sport

ZC31S

05.11-
(Type1)

193550-4651

JPY:470,000

*for Manual transmission model only

07.5-
(Type2)

193550-4652

[Related Products]
TYPE Sp-X Dual Muffler
TYPE Ti Dual Muffler
Air funnel cleaner COMPE-PX
Ram air induction box


- Spec

The charging pressure

0.2 x 100kPa

Weight

18kg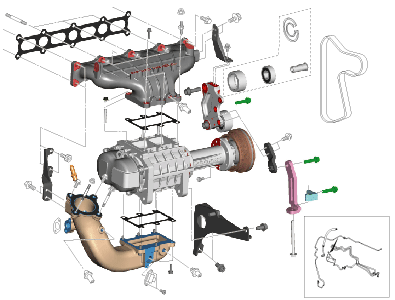 - Components
supercharger
Special intake manifold
Special suction pipe
Special A/C pipes
Special brake lines
Belt and pulley set
Electrical harness set
Attaching stays
PFX300
GTi Spark #8
*Attention!
-Noise will be heard in the car when supercharger is working.
-We do not warrant or guarantee if this kit is used in motorsport.