All Aluminum Space Frame
The skill of Suzuki Sport and Suzuki's motorcycle technology has made possible of making this all aluminum space frame. Light, yet strong, and also excellent for recycling which matches to new generation.
It is said to be difficult to produce for competition machines but Suzuki Sport has done this since 1996 and has been used for Pikes Peak V6 Escudo (Grand Vitara) and All Japan Dirt Trial V6 Escudo (Grand Vitara). It has gained many feedbacks from the competition fields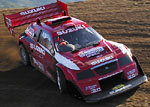 ....